Submitted by

admin

on Wed, 2012-05-09 11:03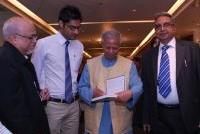 The Yunus Center at AIT welcomed Professor Muhammad Yunus, Nobel Laureate on Tuesday, May 8 as keynote speaker for the Symposium on Social Business: A New Business Model for the New Millennium. Co-hosted by Yunus Center at AIT, Thai Health Promotion Foundation, Thai Social Enterprise Office (TSEO), Thailand Management Association (TMA), and Asian Institute of Technology (AIT) the event featured welcome remarks by Professor Said Irandoust, President, AIT; Dr. Riaz Khan, Director, Yunus Center at AIT; Ms. Wanweera Rachdawong, CEO, TMA, and Dr. Krissada Raungarreerat, CEO, Thai Health.
Prof. Yunus originated the concept of Grameen Bank – banking without collateral – for the poorest of the poor in Bangladesh. In 2006, Yunus and the bank were jointly awarded the Nobel Peace Prize. The symposium aimed to look for the possibilities for establishing a social business and social business venture funds in South East Asian Region.
More than 200 experts of various disciplines with multidisciplinary experience attended the conference. It was clear that the primary aim of social business was to solve social problems in a manner that is financially and environmentally sustainable.