Submitted by

admin

on Thu, 2010-03-11 17:56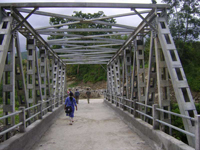 AIT Extension is organizing a 10-day training program on "Environmental and Social Safeguards" from 22 to 30 March 2010 for engineers and project staff of the Rural Reconstruction and Rehabilitation Sector Development Program (RRRSDP), Nepal. This project is carried out by Department of Local Infrastructure Development and Agricultural Roads, Ministry of Local Development, Government of Nepal.
The training program focuses on immediate post-conflict development priorities for accelerated poverty reduction and inclusive development, thereby enhancing the effectiveness and efficiency of the delivery of public services, and improving access of rural people to economic opportunities and social services. It is expected that the program outcomes will advance connectivity, enhance economy and employment opportunities, and increase access to market and social services of rural communities.
In picture: Newly Constructed steel truss bridge with single span of 20 meters, Bhaktapur (src: Department of Local Infrastructure Development and Agricultureal Roads, Ministry of Local Development, Nepal )